Middle East Studies Master of Arts
The Middle East, with its rich history and diverse heritage, remains a relevant focus of international affairs. Religion and politics in post-revolution Iran, the Israeli-Palestinian conflict, U.S. foreign policy in the region, the spread of democracy — these are pressing issues that require a deep knowledge of the region. 
Maybe that's why you're considering a master's in Middle Eastern studies. You want to position yourself to be in a place of influence — to advocate for healthy social change and know how to respond to crisis situations. You want to know how to help refugees or find ways to support democracy, gender equality, and development in this area of our world. 
But in order to make a difference, you realize you need to develop a greater understanding of the region's history, politics, and key players, while also developing essential skills that will be required in the field.
The Master of Arts in Middle East Studies at the Elliott School of International Affairs is right for students who are looking to:
Gain a better understanding of Middle East societies and culture
Represent people of the region from a global perspective
Become proficient in a Middle Eastern language 
Participate in shaping foreign policy 
Extend their professional network 
Increase earning potential and career satisfaction
Some of the students who succeed in this program are:
Recent graduates with degrees in International Affairs, Political Science, Middle East Studies, Arabic Language/Literature, History
Military students returning from service and seeking a master's degree
Students with five years or less of experience in diverse careers
Get the skills you need to make a global impact.
Learn more with your M.A. in Middle East Studies Program Preview.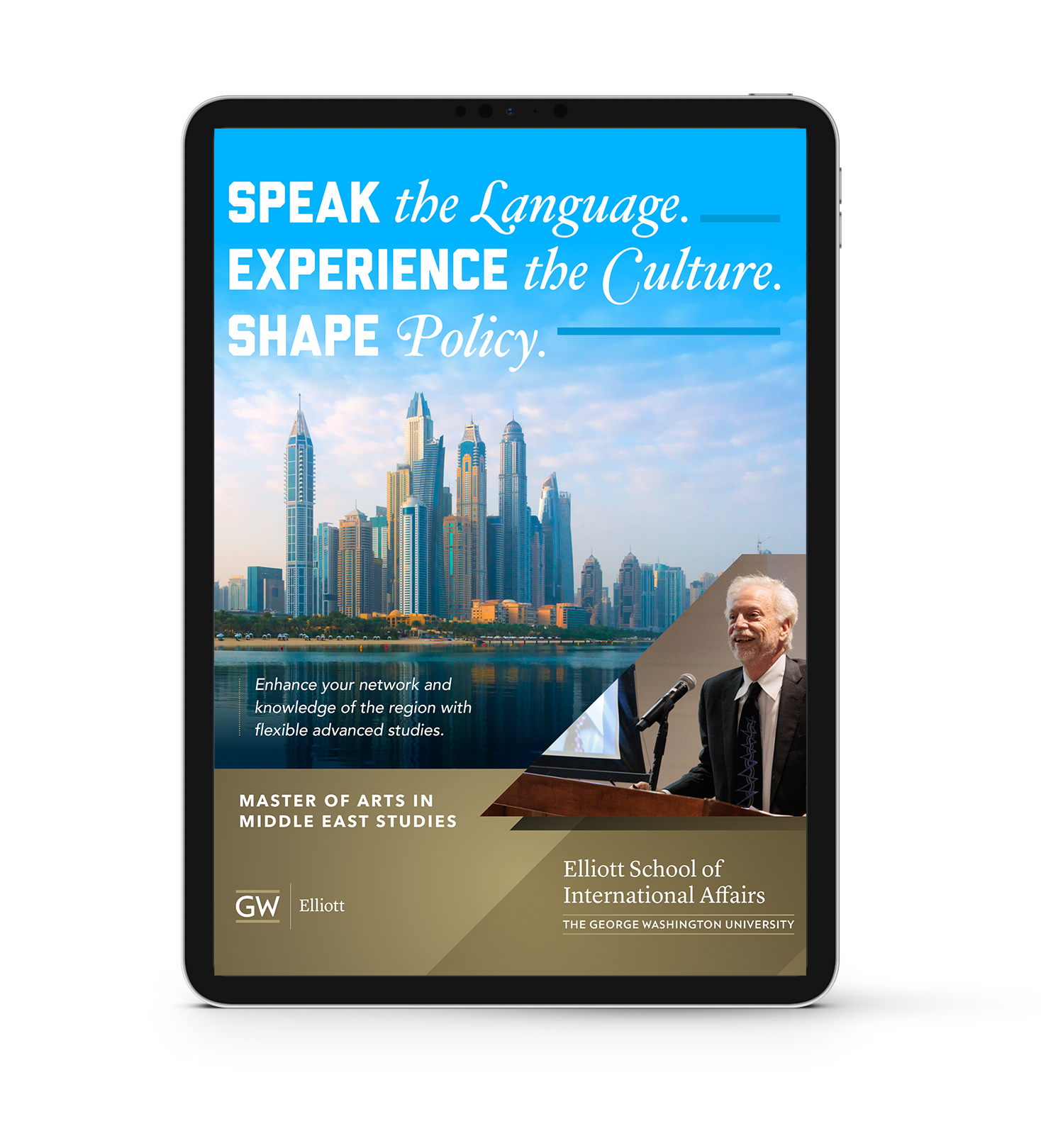 Equipping the Next Generation to Bring Lasting Change
Maybe you already know the Middle East is an area of interest for you, but you're trying to decide if a degree in international affairs or an M.A. in Middle East Studies is going to help you get where you want to go. 
Being part of a small and focused graduate program has many benefits. It means you'll get to know your director well and have a personal relationship with core faculty and peers. It also means you'll have more flexibility to personalize your learning experience so you're aligning specific academic and career interests.
Design Your Own Field 
All students in our Middle East program start with an introduction to the greater region that is intensive and rigorous. From there, you'll have the flexibility to tailor content to your specific area of interest in a professional specialization. 
Engage With Expert Faculty
Our faculty are distinguished professors who are both recognized and respected, including Nathan Brown, Marc Lynch, Attiya Ahmad, Shana Marshall, Mona Atia, Ilana Feldman, and Shira Robinson. You'll be able to lean into their expertise with research opportunities and unique experiences that will set you apart from your competitors. 
Demonstrate Language Proficiency
Whether you're working as a consultant in the private sector or in the government, employers want professionals who can come in and complete a daily brief and monitor the media in Arabic or another regional language. Our proficiency-based language requirements are rigorous and reflect a great level of mastery.
Build Relevant Work Experience
You'll complete a Capstone project, in which you'll work with a client to address a real issue impacting the Middle East region. As part of this experience, you can apply for funding to do research overseas. Throughout the Capstone, you'll have the chance to practice your language skills, research skills, and ability to navigate another country. 
Past Capstone projects have included:

Studying Oman's political economy and the kingdom's relationship with Asia, with a focus on the future of Omani export markets
Interviewing Lebanese women involved in the October 2019 uprising
Traveling to Doha to interview journalists who have experienced violence, then researching what organizations are doing to protect journalists
Want to learn more about what you could be doing as a student in our Middle East Studies graduate program? Download our program preview.
Where Students Find Value at the Elliott School
While academic experience inside the classroom is a crucial consideration as you narrow down your list of top Middle East Studies programs, where you learn can be just as important. The program you choose will impact everything from work and internship experience to the number of opportunities you have to connect with leaders in the field.
The D.C. Experience 
Situated in the heart of the nation's capital, you'll be minutes away from the year's biggest events, networking opportunities, and speeches delivered by world leaders. You'll also be within walking distance of important organizations, such as the World Bank, the State Department, the International Monetary Fund (IMF), and USAID. For most students, this means the opportunity to gain professional experience during the day before walking or taking the Metro to campus for night courses.
Learn more about what your experience will look like.
A Leading Institute
Through the Institute for Middle East Studies (IMES), you'll have opportunities to engage in open and informed dialogue on pressing issues, such as famine and food in the Middle East, gender equality, the media's role in the invasion of Iraq, and the division versus one-state reality of Israel and Palestine. Named a National Resource Center and a designated recipient of the federally-funded FLAS language fellowship program, IMES is a hub for the country's leading political scientists specializing in the region. You'll hear from and engage with faculty as well as visiting scholars, such as Graham Auman Pitts, Oussema Othmeni, Jackson Perry, and Dr. Emma Soubrier.  
Networking Opportunities
This field moves quickly and organizations often want to hire immediately. To be considered for top internships, think tanks, and positions, the personal connections you make are vital. The Elliott School's alumni network and Career Resources can help you make advantageous connections so you're entering strategic conversations. 
"There are lots of schools and programs, but your experience as a student will be largely shaped by the time you spend outside of the classroom. The opportunities I have had to meet decision-makers, learn from experts, and network with prominent alumni simply would not be possible in any other city."
Rachel Shafer
M.A. Middle East Studies
Prerequisites
Foreign Language 

Academic coursework in an approved Middle Eastern language, which will prepare students to complete the program's language requirement*, is required at the time of application. This can be demonstrated by:

Study that is equal to four semesters of university-level coursework or equivalent, reaching at least the upper-intermediate level.
Completion of formal language training as part of employment (e.g., Peace Corps).
Growing up in a household where the language is spoken.

Approved languages for the M.A. in Middle East Studies are Arabic (Modern Standard Arabic), Persian, Hebrew, Kurdish, and Turkish. 

*Students need to have a strong foundation in a foreign language before enrolling to be successful in completing the language requirement during the program.
Where Our Graduates Make a Global Impact 
The field of Middle East Studies is changing. Before, professionals with language skills and a degree were almost guaranteed to secure a job. Now, to step into the field and make an impact, you need to have the right skill set, network, and experiences. 
Within six months of graduating, approximately 93% of Middle East Studies graduates are working with employers such as: 
CACI International 
Department of Defense 
Department of Homeland Security 
Embassy of the State of Libya
Middle East Studies Association
Navanti Group
U.S. Institute of Peace
Washington Institute for Near East Policy
Contact Us
If you have questions about how this degree aligns with your career goals, or you would like to compare the Master's in Middle East Studies with our other master's degree programs in international affairs, sign up for a virtual information session. You'll meet with our graduate admissions counselors, a group of like-minded students interested in solving global issues, and have a chance to ask specific questions as we review program details and the admissions process.
Sign Up for a Virtual Information Session