Stephen
C.
Smith
Title:

Professor of Economics and International Affairs; Chair of the Economics Department

Office:

Suite 502 Elliott School of International Affairs

Phone:

202-994-8086

Fax:

202-994-5477

Email:

Website:
Areas of Expertise
Development economics and poverty; economics of participation; and economics of organization
---
Stephen C. Smith is Professor of Economics and International Affairs at the George Washington University. He received his Ph.D. in economics from Cornell University and has been a Fulbright Research Scholar and a Jean Monnet Research Fellow. Professor Smith is the author of Ending Global Poverty: A Guide to What Works (Palgrave Macmillan, 2005); co-author with Michael Todaro of Economic Development (12th Ed., Addison-Wesley, 2014); and co-editor with Jennifer Brinkerhoff and Hildy Teegen of NGOs and the Millennium Development Goals: Citizen Action to Reduce Poverty (Palgrave Macmillan, June 2007). He is also author or coauthor of some three dozen journal articles, and numerous other publications. He serves as an Associate Editor of the Journal of Economic Behavior & Organization.
Professor Smith was the director of the Research Program in Poverty, Development, and Globalization from 2008-2009. He also served as the first director of the Elliott School's International Development Studies Program. Professor Smith has done on-site research and program work in several regions of the developing world including Bangladesh, China, Ecuador, India, Uganda, and the Former Yugoslavia, and has been a consultant for the World Bank, the International Labour Office (ILO, Geneva), and the World Institute for Development Economics Research (UN-WIDER, Helsinki). He has also conducted extensive research on the economics of employee participation, including works councils, ESOPs, and labor cooperatives, which has included on-site research in Italy, Spain, and Germany, as well as China and India.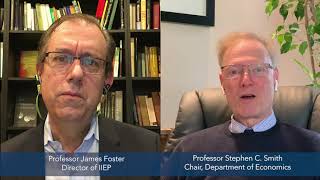 Education
Ph.D., Cornell University
Classes Taught
Econ 2151 Economic Development
Econ 2195 Special Topics
Economics of Povery Alleviation
Econ 6217 Survey of Economics (Intermediate Microeconomic Theory)
Econ 6250 Survey of Development Economics
Econ 8351 Development Economics I
Econ 8352 Development Economics II