Kuniko Ashizawa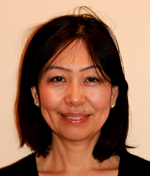 Kuniko Ashizawa
Professorial Lecturer
Part-time Faculty
---
Contact:
Kuniko Ashizawa, who has a doctorate in international relations, has more than 15 years of teaching and research experience on Japan's foreign policy, international relations of East Asia, and global governance, for which she has published a number of academic journal articles and book chapters, including in International Studies Review, Pacific Affairs, the Pacific Review, Journal of Peacebuilding and Development. She was a visiting fellow at the Woodrow Wilson International Center for Scholars, the East-West Center in Washington, and the Reischauer Center for East Asian Studies, SAIS. Dr. Ashizawa previously taught at Oxford Brookes University in the UK.
---
Japan's foreign, security and development assistance policy, regional institution-building in Asia, U.S.-Japan relations, global and regional governance
Ph.D. and M.A., the Fletcher School of Law and Diplomacy, Tufts University. B.A (economics), Keio University.
IAFF 3186: Asian Order and Community-Building
IAFF 3186/6318: Women in Asia
PSC 2374: Politics and Foreign Policy of Japan
Japan, the U.S. and Regional Institution-Building in the New Asia: When Identity Matters (Palgrave McMillan, 2013); Recipient of the 2015 Masayoshi Ohira Memorial Prize.