Susan Ariel Aaronson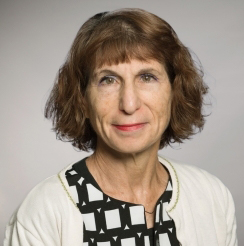 Susan Ariel Aaronson
Research Professor; Director, Digital Trade and Data Governance Hub
Research Faculty
---
Department: Digital Trade and Data Governance Hub
Contact:
Office Phone:
202-994-7974
1957 E St. NW, Office #403O
Washington, D.C. 20052
Susan Ariel Aaronson is a research professor of international affairs and director of the Digital Trade and Data Governance Hub. Aaronson conceived of and directs the Hub. Since 2019, the Hub educate policymakers, the press and the public about data governance and data driven change. In that regard, the Hub hosts conferences, monthly webinars, study groups, and creates primers, and video primers  as well as scholarly papers. The Hub is also the only organization in the world that maps the governance of public, proprietary, and personal data at the domestic and international levels. The Hub's research has been funded by foundations such as Ford and Minderoo.  
Aaronson is also a cross-disciplinary fellow and affiliate at GW's Institute for International Economic Policy, the Institute for International Science and Technology Policy and the Sigur Center for Asian Studies  Since 2017, Aaronson has also been  a senior fellow at the think tank Center for International Governance Innovation (GIGI) in Canada where she publishes much of her research on data driven change and data governance.
Aaronson is currently directing projects on mapping data governance and writing on AI Protectionism, Public Participation in AI Governance,  XR and International Trade, and data as a global public good. 
Dr. Aaronson is a frequent speaker and writer on international economic developments. She regularly writes op eds for Barron's.  Aaronson has commented on economics on "Marketplace,  "All Things Considered," Morning Edition," NBC, CNN, the BBC, and PBS.  Previously, Aaronson was a Guest Scholar in Economics at the Brookings Institution (1995–1999); and a Research Fellow at the World Trade Institute 2008-2012. . Aaronson was also the Carvalho Fellow at the Government Accountability Project and the Minerva Chair at the National War College.  She has served on the Business and Human Rights Advisory Board at Amnesty International and the Advisory Board of Human Rights Under Pressure, a joint German and Israeli initiative on human rights. 
Aaronson encouraged GWU to join the  Public Interest Technology Network and as the designated representative, she works to encourage education and research that facilitates public understanding of technology and technology that serves the public.  She has also consulted for the ILO; the World Bank; Free the Slaves; the Ford Foundation; the Extractive Industries Transparency Initiative; the Progressive Policy Institute the Stanley Foundation; several corporations; and the governments of Canada, Belgium, and the Netherlands, among others. 
In her spare time, Aaronson enjoys triathlons and ballet.
---
Senior Fellow, CIGI
GWU Cross-Disciplinary Fellow
former Minerva Chair, National War College
International trade, digital trade, data governance,  governance of AI and XR (spatial computing) transparency, economic growth and human rights.
Digital Trade and Digital l Protectionism
AI and Trade
 AI and Governance 
A Human rights approach to data
Good governance
Digital trade and trust
Public Participation in AI Governance
Data as a Global Public Good
AI Protectionism 
XR Governance
HIST 6031 History of International Economic Systems: the WTO and the Bretton Woods Institutions
IAFF 6198 Special Topics in International Trade and Investment Policy
Trade Issues and Strategies
Digital Trade and Global Governance Issues
Corruption, Development and Good Governance
Peer-reviewed Scholarly Articles
Building trust in digital trade will require a rethink of Trade policy-making, Oxford Review of Economic Policy  Dec, 2022  Vol 38, No. 4.
Building trust in digital trade will require a rethink of trade policy-making, Oxford International Review, forthcoming.
Data is Different and that's Why the world Needs a new Approach to Governing Cross-Border Data Flows, Digital Policy, Regulation and Governance, May 2019.
What Are We Talking About When We Discuss Digital Protectionism?, World Trade Review: 2018 (Winter)
Policy Briefs and Working Papers
A Lost Opportunity to Build Trust in AI, OECD.AI, forthcoming CIGI
A Future Built on Data: Data Strategies, Competitive Advantage, and Trust, CIGI Paper No. 266, June 9, 2022.
Listening to Users and Other Ideas for Building Trust in Digital Trade, CIGI Paper No. 258, September 21, 2021.
Could Trade Agreements Help Address the Wicked Problem of Cross-Border Disinformation?, CIGI Paper No. 255, July 25, 2021.
with Thomas Struett, Data is Divisive: A History of Public Communications on E-Commerce, 1998-2020, CIGI Paper No. 247, December 2020.
Data is Dangerous: Comparing the Risks that the United States, Canada and Germany See in Data Troves, CIGI Papers No. 241, April 2020.
Op Eds
Biden's New AI Policy Falls Short on a Key Problem, Barron's  
A New Approach to Digital Public Goods Is Gaining Steam, Barron's
Weak Data Protection Puts National Security at Risk, Barron's, August 12, 2020,  
Why we Need a Wicked Problems Agency, The Hill,  7/13/2020
Ph.D., Johns Hopkins University