Stephen K. Trynosky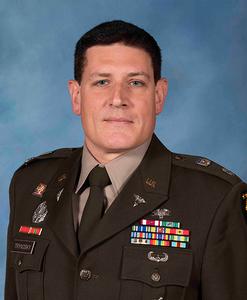 Stephen K. Trynosky
Practitioner-in-Residence and Senior Military Advisor
Full-time Faculty
---
Contact:
Lieutenant Colonel Stephen Trynosky is a Practitioner-in-Residence in the National Security Studies Program, an executive education program serving the U.S. Department of Defense and other federal agencies.
LTC Trynosky was commissioned into the Army Medical Service Corps through ROTC in 1998 and has served in a variety of command and staff assignments in the Regular Army and Army Reserve. He is an Academic Year 2022-23 Superior Graduate of the U.S. Army War College, Carlisle Barracks. PA. From October 2019 through May 2022, LTC Trynosky was Commanding Officer of the 993rd Medical Detachment (Veterinary Service Support), Aurora, CO and Camp Arifjan, Kuwait. His command tenure included the 993rd MDVSS' deployment in support of Operations Spartan Shield, Inherent Resolve, Freedom's Sentinel, and Allies Refuge where it executed the Department of Defense's food safety and animal health missions in 11 countries throughout the U.S. Central Command Area of Responsibility.
As a career Federal employee, LTC Trynosky is assigned to the Countering Weapons of Mass Destruction Office, U.S. Department of Homeland Security, Washington, DC. His previous positions in Federal service include: Strategic Initiatives Manager, Office of Academic Affiliations, Veterans Health Administration; Assistant Director and Congressional Affairs Specialist, Office of Legislative Affairs, U.S. Department of Homeland Security, Washington, DC; and ORISE Fellow, Public Health Law Program, Centers for Disease Control and Prevention, Atlanta, GA.
LTC Trynosky is an elected member of the American Public Health Association's Governing Council. He is admitted to practice law in the State of New Jersey and a National Registry Emergency Medical Technician.
---
J.D., State University of New York at Buffalo
M.P.H. (Health Services Administration), State University of New York at Buffalo
M.S.S. (Global Security Studies – Eurasia), U.S. Army War College
M.M.A.S. (Theater Operations), School of Advanced Military Studies, U.S. Army
Command and General Staff College
A.B. (History), Saint Peter's College