Otaviano Canuto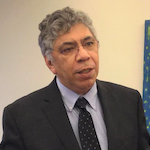 Otaviano Canuto
Professorial Lecturer
Part-time Faculty
---
Contact:
Dr. Otaviano Canuto, based in Washington, D.C, is a senior fellow at the Policy Center for the New South, a nonresident senior fellow at Brookings Institution, a visiting public policy fellow at ILAS-Columbia, and principal of the Center for Macroeconomics and Development. He is a former vice-president and a former executive director at the World Bank, a former executive director at the International Monetary Fund and a former vice-president at the Inter-American Development Bank. He is also a former deputy minister for international affairs at Brazil's Ministry of Finance and a former professor of economics at University of São Paulo and University of Campinas, Brazil.
---
International economics; development economics
Globalization and development; economic growth in Latin America and the Caribbean
IAFF 3187 and IAFF 6358 Economic and Social Development of Latin America
PhD in economics, University of Campinas, Brazil; M.A. in economics, Concordia University, Canada.