Michelle Kelso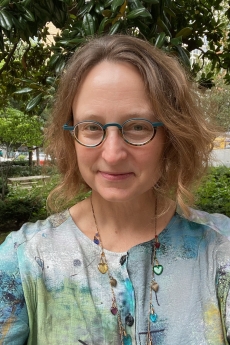 Michelle Kelso
Assistant Professor of Sociology and International Affairs; Director of the GW Human Services and Social Justice Program
Full-time Faculty
---
Contact:
Professor Kelso's interests span from collective memory and education, to aging and beauty, using qualitative methods to discover the personal constructions of identity. From 2008-09, Michelle was a Charles H. Revson Foundation Fellow at the U.S. Holocaust Memorial Museum, where she was working on her dissertation entitled that focused on the Romani experience in Romanian-run camps in occupied Soviet Union, and contemporary views in Romania of Roma as Holocaust victims. Michelle also holds a M.A. in Russian and East European studies, and a Master in Public Affairs from the University of Texas (2001). She speaks Romanian, French, and some Romani.
Additionally, Michelle has worked for several years in civil society. From 2005-2010, she was the director of a Romanian non-profit organization, the Association for Dialogue and Civic Education, which had projects on Holocaust education, tolerance promotion, as well as researching the fate of the Romanian Roma during WWII. In 2005, Michelle made a documentary film in 2005: "Hidden Sorrows: The Persecution of Romanian Gypsies During WWII" that has screened in seven countries, numerous film festivals, and aired on three national television channels.
---
Historical and Comparative Sociology; Ethnography; Sociology of Education; Race and Ethnicity; Health and Aging; and Visual Sociology
SOC 6232: Qualitative Methods
HMSR 2176: Program Planning and Evaluation
HMSR 4198: The Role of NGOs in International Humanitarian Assistance
HMSR 4198: Non-profit Management
2009. Ioanid, R.; M. Kelso, and L. Cioaba, eds. Tragedia Romilor in Transnistria (The Tragedy of Roma in Transnistria). Bucharest: Polirom.
2009. Kelso, M. and V. Ghirda, eds. Through Our Lens: Romani Lives and Culture. Bucharest: The Association for Dialog and Civic Education.
2008. Holocaust-era Compensation and the Case of the Roma, Studia Hebriaca Vol.8. Bucharest: University of Bucharest Press.
2007. Hidden History: Perceptions of the Romani Holocaust in Romania Viewed Through Contemporary Race Relations. Anthropology of East Europe Review, Fall 2007, pp.44-61.
2006. Kelso, M. and A.M. Popa. Ghidul Professorului: Dureri Ascunse: Persecutarea Romilor din Romania 1942-44. (A Teacher's Guide: Hidden Sorrows: The Persecution of Romanian Roma 1942-44). Bucharest: The Association for Dialogue and Civic Education.
2006. Hidden Sorrows: Meeting Gypsy (Roma) Survivors of the Holocaust, International Institute Journal University of Michigan, Fall 2006.
Ph.D., University of Michigan