Leniqueca Welcome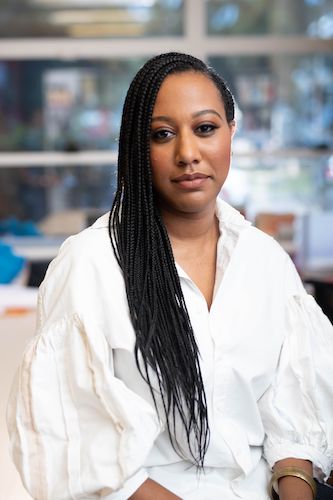 Leniqueca Welcome
Assistant Professor of Anthropology and International Affairs
Full-time Faculty
---
Contact:
1957 E St. NW, Office #601E
Washington, D.C. 20052
Leniqueca Welcome is a multimodal anthropologist and designer from Trinidad and Tobago. Her research and teaching interests are postcolonial statecraft, racialization, gendering, securitization, visuality, and affect. Her work combines more traditional ethnographic methods with photography and collage. She is currently working on her first book manuscript which examines criminalization and the operation of colonial technologies of anti-blackness over space and time in Trinidad. By attending to these processes, the project illuminates how the figure of the violent criminal is used to construct—but can also trouble—current ethical-juridical limits of humanity, care, justice, and freedom. Her writing could also be found in venues such as Small Axe: A Journal for Caribbean Criticism, Multimodality and Society, and American Anthropologist (Public Anthropologies Section)
Leniqueca Welcome received her Ph.D. in cultural anthropology with certificates in urban studies and experimental ethnography from the University of Pennsylvania in 2021. Prior to starting her Ph.D. program, she was trained as an architect at the Fay Jones School of Architecture at the University of Arkansas, Fayetteville, and worked at ACLA architecture (a design firm in Trinidad) until 2015.