Khalil Derbel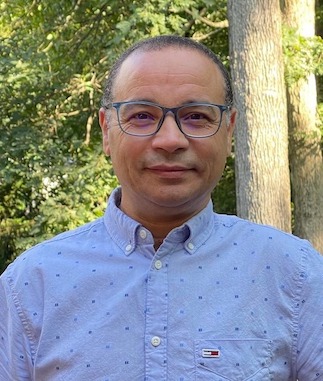 Khalil Derbel
Lecturer; FLAS Fellowship Coordinator, Institute for Middle East Studies
Part-time Faculty
---
Department: Institute for Middle East Studies
Contact:
Office Phone:
571-314-8691
1957 E St. NW, Office #512
Washington, D.C. 20052
Professor Derbel has recently joined the George Washington University's Institute for Middle East Studies as the Foreign Language and Area Studies (FLAS) Fellowship Coordinator. He comes with a long and varied vita in higher education and also in the realm of diplomacy. For 16 years, he trained Foreign Service Officers (DoS) and Foreign Area Officers (DoD) at the Foreign Service Institute's Arabic Field School, Tunis, Tunisia. In the Fall of 2021, he joined the Arabic faculty of George Washington University where he taught Arabic classes at various proficiency levels and taught a course in Media Arabic. In the Spring semester, Professor Derbel will teach a course on Arabic for Humanitarian Assistance and Development and a course on the Moroccan Dialect at the Elliott School. In language proficiency assessment, Mr. Derbel is well-versed in the ILR and ACTFL assessment guidelines and his expertise served both the foreign service community and various cohorts of Critical Language Scholarship students.
During his career with the Department of State, Professor Derbel also served as Program Analyst at the Middle East Partnership Initiative Regional Office and worked for ten years as the Political Specialist (the U.S. Embassy in Tunis) where he advised the Ambassador and senior embassy leadership on political developments in the context of a vibrant and fast-paced democratic transition. His work contributed to a better understanding of the political situation in Tunisia on the part of decision makers in Washington.
Professor Derbel is proficient in Arabic, French and English.
---
Foreign Affairs
Political Analysis and Reporting
Election Observation
Language Teaching and Assessment
Translation and Interpreting
Grant Management
Monitoring and Evaluation
Received special recognition from the following US Government Officials:
Deputy Secretary of State Wendy Sherman (2021)
Deputy Secretary of State Bill Burns (2014)
FBI Director Robert S. Mueller, III (2012)
Assistant Secretary of State for Near Eastern Affairs Jeffrey Feltman (2011)
Recipient of the Meritorious Honor Award from the Department of State in 2021, 2020, 2019, 2017, 2015, 2014, 2013, 2010, 2002, 2000 and 1998.
Master's degree in Public Management and Public Policy (The European University of Tunis),
Master's degree in English Literature (The University of Tunis)
Bachelor's degree in English (The University of Tunis)
 Arab 1001
Arab 1002
Arab 2001
Arab 2002
Arab 3001
Media Arabic