Herbert Davis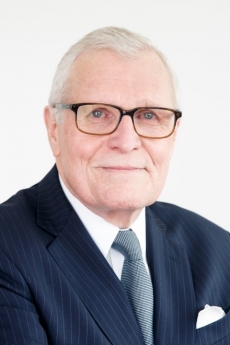 Herbert Davis
Professor of Strategic Management and International Affairs
Full-time Faculty
---
Contact:
Dr. Davis has more than thirty-five years of experience with business and international affairs. He has worked with multinational corporations, governments, universities, consulting firms, and non-profit organizations world-wide. His specific regional areas of interest and expertise include South Asia and the countries of the Middle East. Dr. Davis has held senior management positions with the United States Chamber of Commerce including Vice President for International Affairs. During his career at the Chamber he was directly involved in founding three bilateral business councils representing U. S. corporate interests in Bangladesh, Pakistan, and Bahrain. He also founded and managed the South Asia Regional Energy Coalition (SAREC) at the Chamber. This coalition was comprised of the national chambers of commerce and industry throughout South Asia including Pakistan and Afghanistan. The coalition was funded by the United States Agency for International Development (USAID).
During his career Dr. Davis has worked closely with the Executive Office of the United States Trade Representative during both the Clinton and George W. Bush Administrations. He also represented U. S. corporate interests to the U. S. Department of State, the International Trade Administration, the Department of Energy, and the Trade and Development Administration. From 2010-2013, Dr. Davis was the team lead and Acting Chief of Party for the USAID funded Iraq Financial Development Project. In that capacity he worked directly with Iraq's Ministry of Higher Education and universities and colleges of management and economics to strengthen their programs in finance and banking education.
Dr. Davis has served as a Visiting Scholar at the East-West Center, Senior Fulbright Professor to Bangladesh, and as a visiting professor at various international universities including: the University of Western Australia, Victoria University of Wellington, Concordia University of Montreal, and the National University of Singapore. He is widely published in the area of comparative and cross-cultural management. He is the senior editor of National Culture and International Management in East Asia published by Thomson Business Press (UK) and Management in India: Trends and Transition published by Sage, India. He is a founding member of the international editorial board of the Journal of Cross-Cultural Management.
During the 2016-2017 academic year Dr. Davis will serve as the Senior Scowcroft Fellow at the George H. W. Bush School of Government and Public Service at Texas A. and M. University. He will be on sabbatical from the George Washington University during the 2016 fall semester.
---
Strategic management in developing country environments; Regional areas of expertise include South Asia and Middle East.
Ph.D., Louisiana State University