Christopher A. Kojm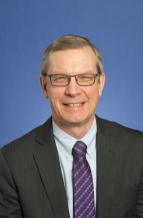 Christopher A. Kojm
Professor of International Affairs; Director, Leadership, Ethics and Practice Initiative; Director, MA European and Eurasian Studies
Full-time Faculty
---
Department: Leadership Ethics and Practice Initiative
Contact:
1957 E St. NW, Office #605N
Washington, D.C. 20052
Christopher A. Kojm serves as the Director of the Elliott School's Leadership, Ethics and Practice Initiative. He re-joined the School as a Professor of Practice in International Affairs after serving as Chairman of the National Intelligence Council from 2009 to 2014. He is also the Director of the US Foreign Policy Summer Program and served previously as director of the mid-career Master's in International Policy and Practice program. He taught previously at Princeton's School of Public and International Affairs.
In government, Chris served as a staffer on the House Foreign Affairs Committee from 1984-98 under Rep. Lee H. Hamilton, as a deputy assistant secretary of state in the Bureau of Intelligence and Research (1998-2003), and as deputy director of the 9/11 Commission (2003-04). He was also president of the 9/11 Public Discourse Project, the Commission's follow-on public education organization (2004-05). He also served as a Senior Advisor to the Iraq Study Group (2006).
He received a master's degree in Public Affairs from Princeton's School of Public and International Affairs.
---
U.S. Foreign Policy and National Security Policy; extensive career experience in the Legislative and Executive branches, and in the Intelligence Community
IAFF 2190W Terrorism and Counterterrorism Policy
IAFF 6118 Leadership in International Affairs
IAFF 6503 Writing for International Policymakers
IAFF 6898 Capstone Workshop
U.S. Foreign Policy and Global Interests
Christopher A. Kojm, "The basis for strong US-EU relations endures: Continuity in institutions and interests", Finnish Institute of International Affairs, October 2019.
Christopher A. Kojm, "Opinion: Why Finland Should Pay Close Attention to U.S. Fighter Bids", Aviation Week & Space Technology, October 2, 2019.
Christopher A. Kojm, "Transatlantic intelligence ties remain strong: Insulated against political turmoil", Finnish Institute of International Affairs, August, 2019.
Kojm, Christopher, "A Recent NIC Chairman's Perspective—Change and Continuity: The National Intelligence Council, 2009–2014," Studies in Intelligence, Volume 59, No. 2, June 2015, 12pp.
Kojm, Christopher A., "Global Change and Megatrends: Implications for Intelligence and Its Oversight," Chapter 4 in forthcoming Global Intelligence Oversight, ed. by Zachary Goldman (New York: Oxford University Press, 2016).
Christopher Kojm (Panel Member). "Report of the Analysis Independent Review (AIR) Panel: The Performance of the Analytic Components of the Intelligence Community in Customer Support," John A. Kringen, Chair, AIR Panel, October 2015, 29 pp.
Kojm, Christopher A, "Security Checks Need a 21st Century Upgrade: Washington's Security Clearance System is a Relic of the Cold War," Wall Street Journal, September 17, 2015.
M.P.A., Princeton University