Alexa Alice Joubin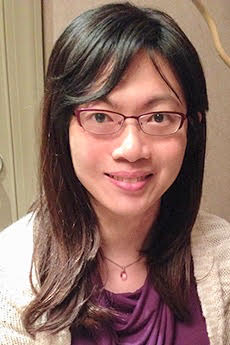 Alexa Alice Joubin
Professor of English, Women's, Gender and Sexuality Studies, Theatre, Intl' Affairs, and East Asian Languages and Literatures; Co-director, Digital Humanities Institute; affiliate faculty, Institute for Korean Studies and Sigur Center for Asian Studies
Full-time Faculty
---
Contact:
Alexa Alice Joubin is the inaugural recipient of the bell hooks Legacy Award and holder of the Martin Luther King, Jr. Award. She writes about race, gender, cultural globalization, disability, and film and theatre, and co-directs the Digital Humanities Center. The bell hooks Legacy Award recognizes her achievements in research, teaching, and service, particularly her efforts to "dismantle intersectional systems of oppression" through her public humanities work, use of generative AI tools as assistive technology in class, open-access publications, and inclusive pedagogies.
Part of her work focuses on racial and national histories that connect imaginative writing to cultural diplomacy. Her research examines the question of ethics of cultural appropriation in international festivals.
She has served the Asian studies community in her roles as the Vice President of the Association for Asian Performance (AAP) and Vice President and President of the Mid-Atlantic Region Association for Asian Studies (MAR/AAS).
She held the Fulbright Distinguished Chair at Queen Mary University of London and the University of Warwick in the UK. She currently serves as a Fulbright Ambassador.
She has invested her knowledge in public outreach efforts, as evidenced by her TEDx talk and numerous interviews on racial and gender justice with such media outlets as CBC in Canada, BBC in the UK, The Economist, South China Morning Post, ABC, The Washington Post, and Voice of America.
Her research has been supported by the Fulbright, ACLS, Chiang Ching-kuo Foundation, Social Sciences and Humanities Research Council of Canada (SSHRC), Germany's Stiftung Mercator grant, and other institutions and agencies. She received the Modern Language Association's Aldo and Jeanne Scaglione Prize for Comparative Literary Studies and George Washington University's Oscar and Shoshana Trachtenberg Research Prize and a Writing in the Disciplines teaching award.
---
Bell hooks Legacy Award, Popular Culture Association / American Culture Association
Martin Luther King, Jr. Award, George Washington University
Aldo and Jeanne Scaglione Prize for Comparative Literary Studies, Modern Language Association
American Council of Learned Societies (ACLS) Frederick Burkhardt Fellow
Fulbright Distinguished Chair, Queen Mary University of London and University of Warwick, UK
ACLS Fellow, Beijing Normal University Institute of Comparative Literature and World Literature
University of Essex International Visiting Fellow, UK
Distinguished Visiting Professor, Yonsei University and Seoul National University, South Korea
Research Affiliate in Literature, Massachusetts Institute of Technology
Trachtenberg Research Award, George Washington University
John M. Kirk, Jr. Chair in Medieval and Renaissance Literature, Middlebury College Bread Loaf School of English
cultural diplomacy, globalization, critical race theory, feminism and gender theory, transgender studies, film and theatre, digital humanities, Asian-European cultural exchange, East Asian studies
Shakespeare and East Asia (Oxford University Press, 2021), https://ajoubin.org/research/shakespeare-east-asia/
Race (Routledge, 2019), https://ajoubin.org/research/race/
Screening Shakespeare, an open-access textbook (2022), https://screenshakespeare.org/
Onscreen Allusions to Shakespeare (2022), https://link.springer.com/book/10.1007/978-3-030-93783-6
Sinophone Adaptations of Shakespeare: An Anthology, 1987-2007 (2022), https://ajoubin.org/sinophoneshax/
Shakespeare and the Ethics of Appropriation (2014), https://ajoubin.org/research/shakespeare-and-the-ethics-of-appropriatio…
"Screening Anti-Asian Racism: Gendered and Racialized Discourses in Film and Television," Prism: Theory and Modern Chinese Literature 19.1 (2022): 167-180.
"Anti-Asian Racist Misogyny in Science Fiction Films," The American Mosaic: The Asian American Experience (Bloomsbury ABC-CLIO, 2022). Digital Database
""Deconstructing Compulsory Realpolitik in Cultural Studies: An Interview with Alexa Alice Joubin," The American Journal of Chinese Studies 28.2 (October, 2021): 115-130.
"Trans as Method: The Sociality of Gender," Borrowers and Lenders 14.2 (2023).
"Screening Social Justice," Adaptation 14.2 (2021): 187–205
"Performing Commemoration: The Cultural Politics of Locating Tang Xianzu and Shakespeare," Asian Theatre Journal 36.2 (Fall 2019): 275-280
Intercultural Theatre and Shakespeare Productions in Asia, in Routledge Handbook of Asian Theatre, ed. Siyuan Liu. New York: Routledge, 2016. pp. 504-526
""Familiar Ambiguity: The Value of the Humanities in a Globalized World," Signal House 10, 2021
"Can the Biopic Subjects Speak? Disembodied Voices in The King's Speech and The Theory of Everything," A Companion to the Biopic, ed. Deborah Cartmell and Ashley D. Polasek (Wiley-Blackwell, 2020), 269-282
"Afterword: Towards a regional methodology of culture," Disseminating Shakespeare in the Nordic Countries, ed. Nely Keinänen and Per Sivefors (London: Bloomsbury, 2022), 291-296.
"Something Out of Nothing: On Improvisation and Theater by Lai Shengchuan (Stan)." In Columbia Sourcebook of Literary Taiwan, ed. Sung-sheng Yveonne Chang, Michelle Yeh, Ming-ju Fan (New York: Columbia University Press, 2014), pp. 368-373
"The Brave New World of the Mother Tongue: Taiwanese-language Literature Under Construction." In Columbia Sourcebook of Literary Taiwan, ed. Sung-sheng Yveonne Chang, Michelle Yeh, Ming-ju Fan (New York: Columbia University Press, 2014), pp. 440-441
"Encountering Shakespeare, Imagining China." A New Literary History of Modern China, ed. David Wang. Cambridge, MA: Harvard University Press, in press.
Co-authored with Angelica Duran. "Mo Yan's Work and the Politics of Literary Humor." In Mo Yan in Context: Nobel Laureate and Global Storyteller, ed. Angelica Duran and Yuhan Huang. West Lafayette: Purdue University Press, 2014. pp. 153-16
Ph.D., Comparative Literature, Stanford University
Joint Ph.D., Interdisciplinary Studies of Humanities, Stanford University