Public Service Weekend 2023
Advancing Equity Through Inclusive Leadership and Policymaking 
Thu, June 22nd: 6:00 PM - Sun, June 25th: 2:00PM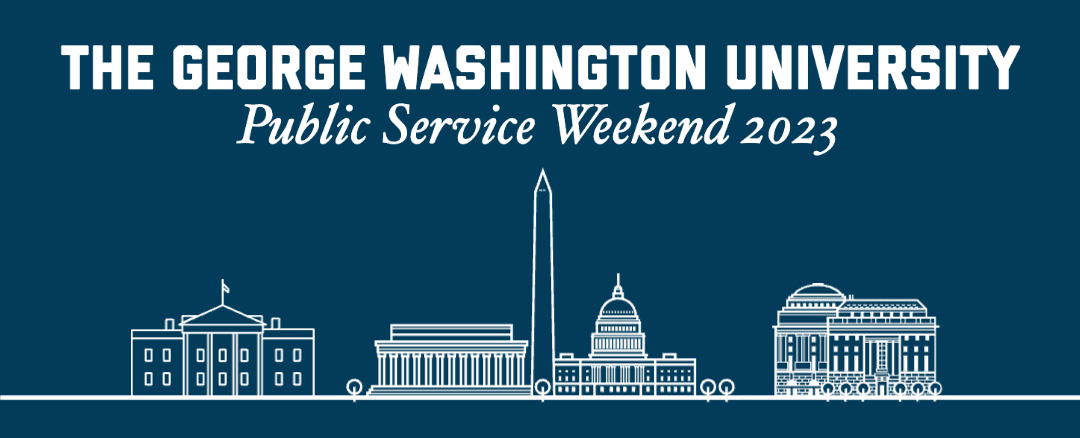 This free virtual conference will highlight the practical skills necessary for success in a public service career at home and abroad while also emphasizing inclusive leadership and decision-making. The application deadline for this conference is Friday, June 9.
Program at a Glance
This virtual conference, hosted by George Washington University's (GW) Elliott School of International Affairs, Trachtenberg School of Public Policy and Public Administration, and GW Law, will offer opportunities for you to learn from and network with leading scholars and policy experts in the field of domestic and international affairs. Through this interactive program, you will work in small teams to develop policy recommendations. You will receive coaching from Elliott School Assistant Dean of Academic Programs Laila Sorurbakhsh and GW Law Interim Associate Director and Associate Professor of Fundamentals of Lawyering Program Erika N. Pont.  You will also learn more about careers in public policy and international affairs and the opportunities for graduate education at GW.
Key Topics
Careers in Public Service, Public Interest, and International Affairs
Applying and Financing Graduate School
Writing for Policy Maker
Inclusive Leadership Skills
---
Public Service Weekend Faculty Advisors
Laila F Sorurbakhsh, Ph.D.
Assistant Dean of Academic Programs; Assistant Professor of International Affairs; Director of Online Education
Professor Sorurbakhsh is an Assistant Professor of International Affairs that specializes in policy innovation, how do we learn and adapt to policies, and how do we learn and implement scientific innovation in the face of imperfect information. Dr. Sorurubakhsh also serves as the Assistant Dean of Academic Programs, where she manages and supervises the academic curricula at the Elliott School of International Affairs. Professor Sorurubakhsh received her Ph.D. in Political Science from the University of Houston with specializations in Comparative Politics, American Politics and Quantitative Methods. Her dissertation, entitled "Feedback in the EU Advocacy System," studies how institutional, environmental, and structural changes to the European Union have impacted interest group populations via their levels of competitiveness and survivability.    
Erika N. Pont, J.D.
Interim Associate Director, Fundamentals of Lawyering Program; Coordinator of the Dean's Fellow Program; Associate Professor of Fundamentals of Lawyering
Erika N. Pont is an Associate Professor in the Fundamentals of Lawyering (FL) Program and currently serves as the Program's Interim Associate Director. In this capacity, she is FL's liaison to GW's Gambrell award-winning Inns of Court Program and is responsible for incorporating principles of professional development and professional identity formation into the FL curriculum. Professor Pont also directs the Dean's Fellow program, supervising and teaching upper level students who support FL professors and 1L students.  She has experience in all aspects of complex commercial litigation including bench and jury trials. Professor Pont's pro bono practice focused on immigration and death penalty issues. In this capacity, she first-chaired immigration hearings and filed amicus briefs on behalf of the American Bar Association and the Tennessee Association of Criminal Defense Lawyers. Professor Pont received her Juris Doctorate (J.D.) from GW Law.
---
2023 Public Service Weekend Keynote Speaker
Olajumoke Obayanju, J.D. '16
Olajumoke "Jummy" Obayanju is the Director of the National Racial Equity Initiative (NREI) for Social Justice at the Congressional Black Caucus Foundation, Inc. (CBCF). Passionate about racial justice, leadership development, and educational equity, Ms. Obayanju is a skilled strategist, facilitator, educator, and lawyer. She oversees and manages the NREI to maximize its visibility and sustainability; ensures the implementation of program objectives and initiatives; and focuses on advancing racial equity, human rights, education, and economic development opportunities for the African American community.
Prior to her current role, Ms. Obayanju was the Racial Justice & Juvenile Defense Fellow at the Georgetown Juvenile Justice Clinic & Initiative, where she worked to improve the systems D.C. youth encounter through policy reform, developed resources to help juvenile defenders incorporate racial justice arguments into their youth advocacy, and created training materials on strategies to identify and correct racial bias. Ms. Obayanju also served as a judicial law clerk to the Honorable Craig Iscoe in the Superior Court of the District of Columbia. Ms. Obayanju began her career as a middle school teacher in Charlotte, NC, where she taught 8th-grade math and Algebra. In her first year, she led 96% of students to pass their End of Grade test and 93% of students to a 12.5% growth average.
Ms. Obayanju received her B.A. in Communications from Howard University, her J.D. from the George Washington University Law School, and her LL.M in Advocacy from the Georgetown University Law Center. In 2016, she was awarded the GW Law BLSA Herbert Henderson Justice & Advocacy Award for her dedication and pursuit of social justice, community service, and advocacy for black law students; and the Michael Dillon Cooley Memorial Award—voted by her law school classmates—for sharing most generously her time, compassion, and vitality to aid the intellectual and spiritual growth of fellow students.
Ms. Obayanju currently serves as President of the GW Law Association of Black Law Alumni, is a member of the Alfred Street Baptist Church Governance & Legal Committee, and sits on the Board of Directors for the Educate ME Foundation. She is a current member of the Maryland State Bar.
Public Service Weekend Staff
Diversity, Equity, and Inclusion Consultant
Lead Student Services Specialist
Senior Law Career Counselor; Public Interest Advising and Programs
Operations Lead, Elliott School Student Services, LEAP Initiative, and the Office of Diversity, Equity, and Inclusion